Paul McCartney Plays Surprise Concert at NYC's Grand Central Terminal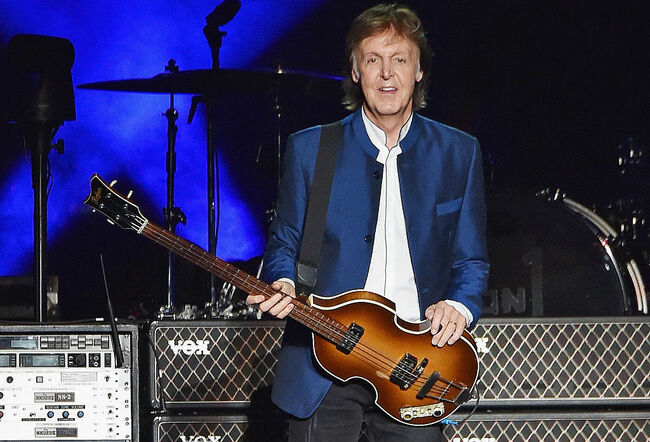 Paul McCartney released his 18th solo album Egypt Station on Friday (September 7) and gave New York City fans a little treat.
As Rolling Stone reports, around 200 people, ranging from close friends to total strangers, filled Vanderbilt Hall — a chamber off the main commuter concourse of Grand Central Terminal. Meryl Streep, Chris Rock, Amy Schumer, Jimmy Fallon and Jon Bon Jovi were all there.
The former Beatle was filming a YouTube livestream concert and wanted to make sure it went smoothly, so he gave the crowd instructions. His plan was to begin the broadcast alone, with the audience in complete silence. "Then I'll just move a little more over this way and sing, 'Hey Jude…'" he explained. "And you'll sing, 'Don't make it bad…' And that's your big moment!" Only, that was its only moment. Aside from the intro tease, he didn't play the iconic song.
Fans can listen to a special broadcast of the special concert by tuning in to iHeartRadio stations across the country, as well as iHeartRadio's Classic Rock Station, on September 14th at 7pm local time.
The living legend of course was there to promote his new album, but the special show's set list only contained a few Egypt Station songs — relying mostly on old classics.
Watch the show and check out the set list below.
Paul McCartney at Grand Central Terminal Set List
"A Hard Day's Night"
"Hi, Hi, Hi"
"Can't Buy Me Love"
"Letting Go"
"I've Got a Feeling"
"Come on to Me"
"My Valentine"
"Nineteen Hundred and Eighty Five"
"From Me to You" (first U.S. performance since 1964)
"Love Me Do"
"FourFiveSeconds"
"Blackbird"
"Dance Tonight"
"Who Cares"
"I Saw Her Standing There"
"Fuh You""Back in the U.S.S.R."
"Ob-La-Di, Ob-La-Da"
"Birthday"
"Lady Madonna"
"Let It Be"
"Sgt. Pepper's Lonely Hearts Club Band (Reprise)"
"Helter Skelter"
"Golden Slumbers"
"Carry That Weight"
"The End"
Photo: Getty Images