Sarah Hyland's 14-Year-Old Cousin Killed In Drunk Driving Accident
Sarah Hyland received some tragic news this weekend. The Modern Family actress revealed on her Instagram story that her 14-year-old cousin, Trevor Canaday, was killed by a drunk driver who ran a red light and hit the car Trevor was riding in on Saturday. Sarah took a screenshot of a GoFundMe page set up to support her cousin's family and shared it with her fans, writing, "This is my 14 year old cousin Trevor. Yesterday, he was killed by a drunk driver. My uncle is still in the hospital in need of more surgeries."
The GoFundMe page describes how Trevor and his dad, both from Omaha, Nebraska, were driving to a show choir event when they were "involved in a serious car accident due to a drunk driver."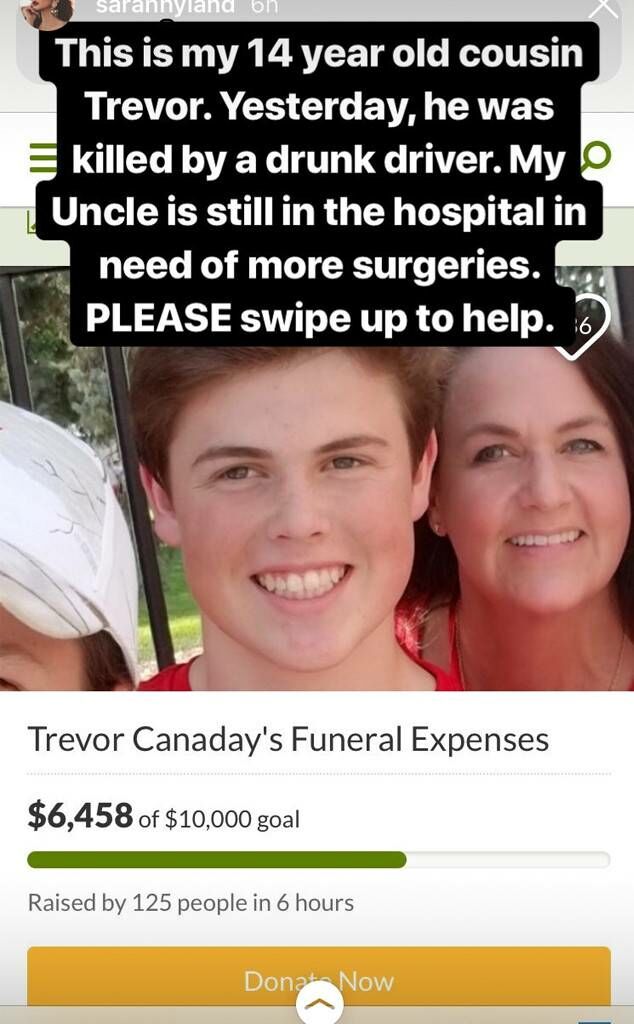 The page states that Sarah's uncle is "recovering physically, but sadly Trevor has gained his wings and is singing and playing some crazy football in heaven." They are hoping to raise money for funeral costs and medical expenses. In less than 24 hours, the campaign surpassed it's goal of $25,000.
Hyland's story also noted that the 36-year-old man who was driving drunk and killed Trevor had two previous DUIs. She also explained that the intoxicated guy "hit my Uncle's car so fast my cousin (who was wearing a seatbelt) was ejected from the car."
The drunk driver was arrested for suspicion of DUI.
Photo: Getty Images, Instagram